1965 GTO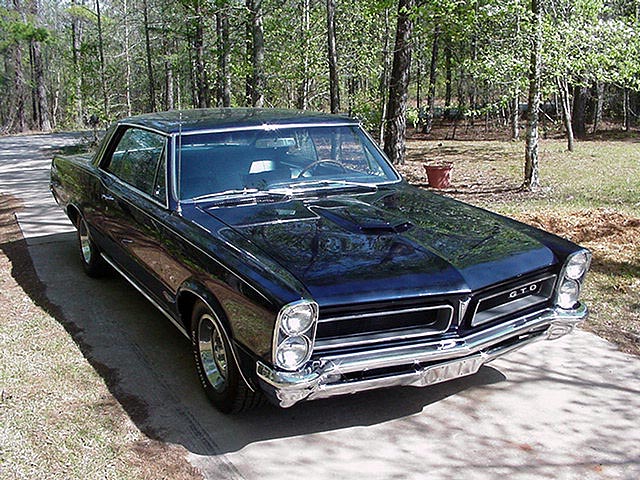 1965 GTO hardtop. Let me start by saying, pictures do not do this car justice! PHS documented AC 4 speed GTO. Options on this matching numbered, orig engine, fully restored GTO are: PS, PDB, AC, 4 speed, wood wheel, rally gauges, console, rally 1's, padded dash, day night mirror, vanity mirror, trunk light, back up lights, am radio, 3.23 posi, nocturne blue with blue interior. This GTO comes with its orig warranty book and protecta plate, car has less then 1000 miles on it since completion. Rechromed bumpers, taillights, perfect stainless, perfect trim, fit and finish are excellent. Paint is absolutely beautiful, but does have flaws and is not perfect, but well above driver quality.
Interior is as nice as I have ever seen, rechromed console, seat bars, dash chrome, armrest bases, restored orig wood wheel, shifter rechromed and rebuilt by hurst, gauges restored by clock doc, seat belts restored by snake oil, carpet, seats, door panels are perfect, feels like sitting in a brand new car..
The orig engine is still in the car (WT code). it was rebuilt and has less then 1000 miles on it. heads and intake were replaced with later model parts so car runs well on pump gas. Air cleaner and valve covers rechromed, new radiator, hoses, water pump, brake booster, ps pump, all brake parts, all ac parts (ac works!!) matching rally 1 spare and tire, orig trans rebuilt, new clutch, belts, alt, ect. 3.23 posi is as good as it was new.
This car was built with the intention of being a fantastic driver. As such all suspension is new. Improvements on it include 1 1/4 front sway bar, 14X7 rally 1's, 235-60-14 radial TA's, quick steering box, flowmasters and power disc brakes. This car rides and drives better then new, very very tight, and great handling and stopping to boot, shifter is not yet even broken in and I am sure feels as good as it did new in 65. This car has had many many $'s spent on a 5+ year restoration, no shortcuts were taken, and it shows, the car looks better then these pictures can portray.